Back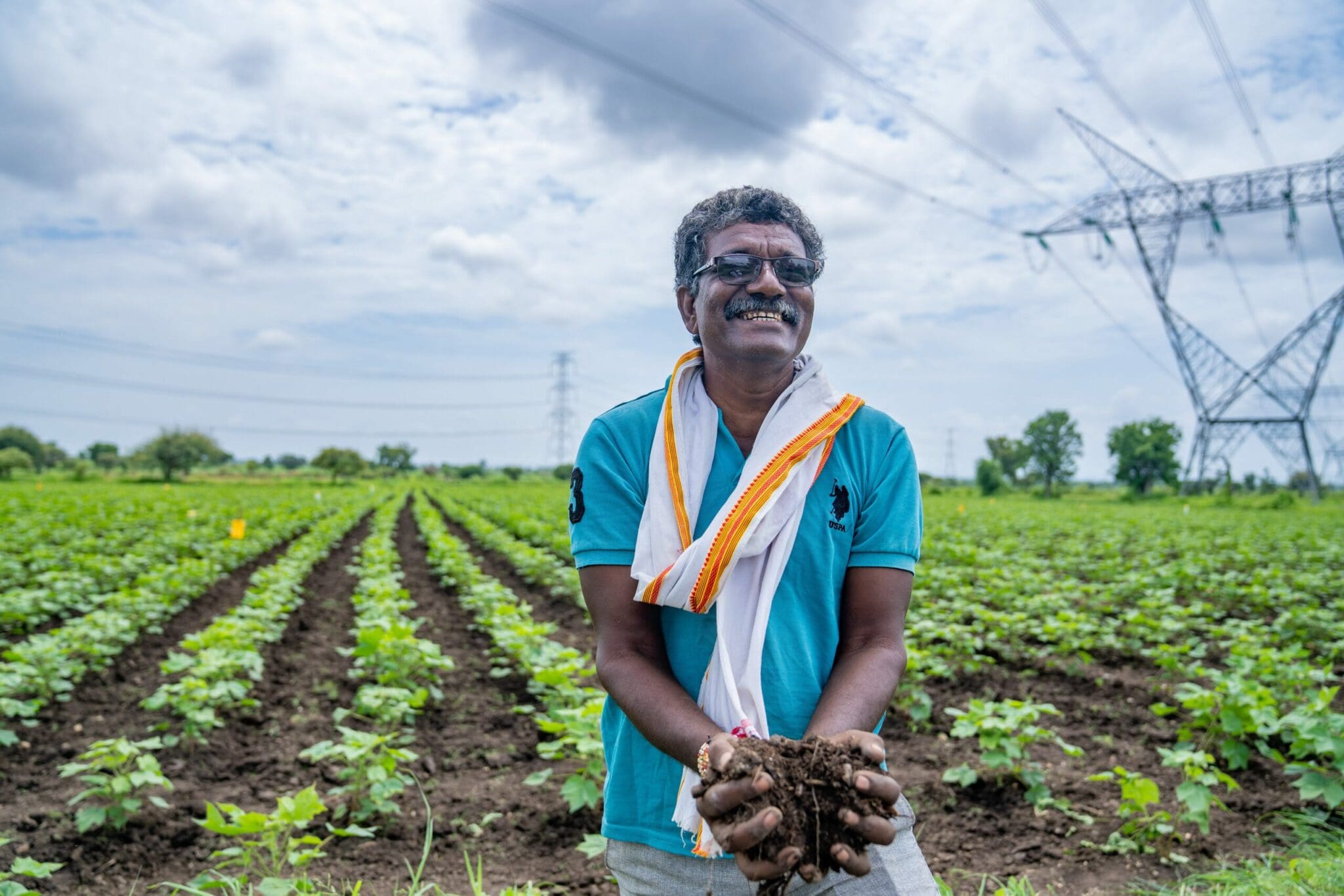 Prahlad is a smallholder farmer with 3.5 acres (1.4 hectares) of land in Inzala village in Wardha District, Maharashtra where he lives with his wife and two children. He is an experienced cotton farmer, cultivating the crop for 25 years, but only in the last eight years has been practicing organic farming methods.
He began his journey into organic farming when he met representatives from OCA implementing partner (IP) SIPL, also based in Wardha. Like many neighbouring farmers in his village, he was hesitant to shift from conventional to organic cultivation but was convinced after he learned about the long-term benefits; mainly that of soil conservation by following the basic principles of organic cotton cultivation.
Prahlad was provided with pre-financed organic seeds by SIPL and also received training on the preparation of bio-inputs through the initial years as an organic farmer. During the kharif season, he grew organic cotton in 3.5 acres (1.4 hectares) while wheat and Bengal gram were cultivated as rabi crops in 1.5 (0.6 hectares) and 2 acres (0.8 hectares) respectively. As a result of the training and support he received, he is now capable of preparing bio-inputs like Dasparni and Nimboli arc himself using farmyard manure (FYM), which he purchased locally as well as managing his crop irrigation needs by drawing water from a local water dam.
"I was hesitant to shift to organic cultivation methods and tried organic cotton farming in 1 acre initially and observed gradual improvement in soil health and yield. Additionally, the investment was less than half that of Bt (conventional) cotton." Prahlad states.
After harvesting, he sold the entire produce of 2516 kgs of organic cotton directly to the IP at the rate of 85 INR (1 Euro) per kg. The IP deducted 3500 INR (41 Euro) for 3.1kg of organic seed, as these were made available in advance pre-financed, and paid 6 INR per kg as a premium. Prahlad's net income from organic cotton after deducting all the expenditure is 123326 INR (1,457 Euro) from the 3.5 acres (1.4 hectares) dedicated to this crop. His net income from other agricultural sources totalled 49700 INR (601 Euro).
Commenting on the financial impact of organic farming, he says: "I had to take loans from banks and moneylenders while I was cultivating Bt cotton, but now that's not the case after shifting to organic cultivation methods."
As well as highlighting the positive impacts of organic cotton farming, Prahlad also shares with us his struggles and suggestions to improve the system for smallholder farmers in his community. One of the areas highlighted by Prahlad was transportation costs. He underlines the need for intervention in order to cut down on the time and costs incurred  by each farmer.
Secondly, Prahlad expressed concern regarding the pests attacking the organic cotton crop with parallel production, and therefore strongly emphasises the necessity to encourage and support with border crops. On a final note, he feels that the premium of 6 INR per kg cotton which is currently paid by SIPL to the farmers should gradually be increased. These actions will help existing farmers to continue to eke a likelihood from organic cotton and encourage those using chemicals to take the first steps towards organic.