Back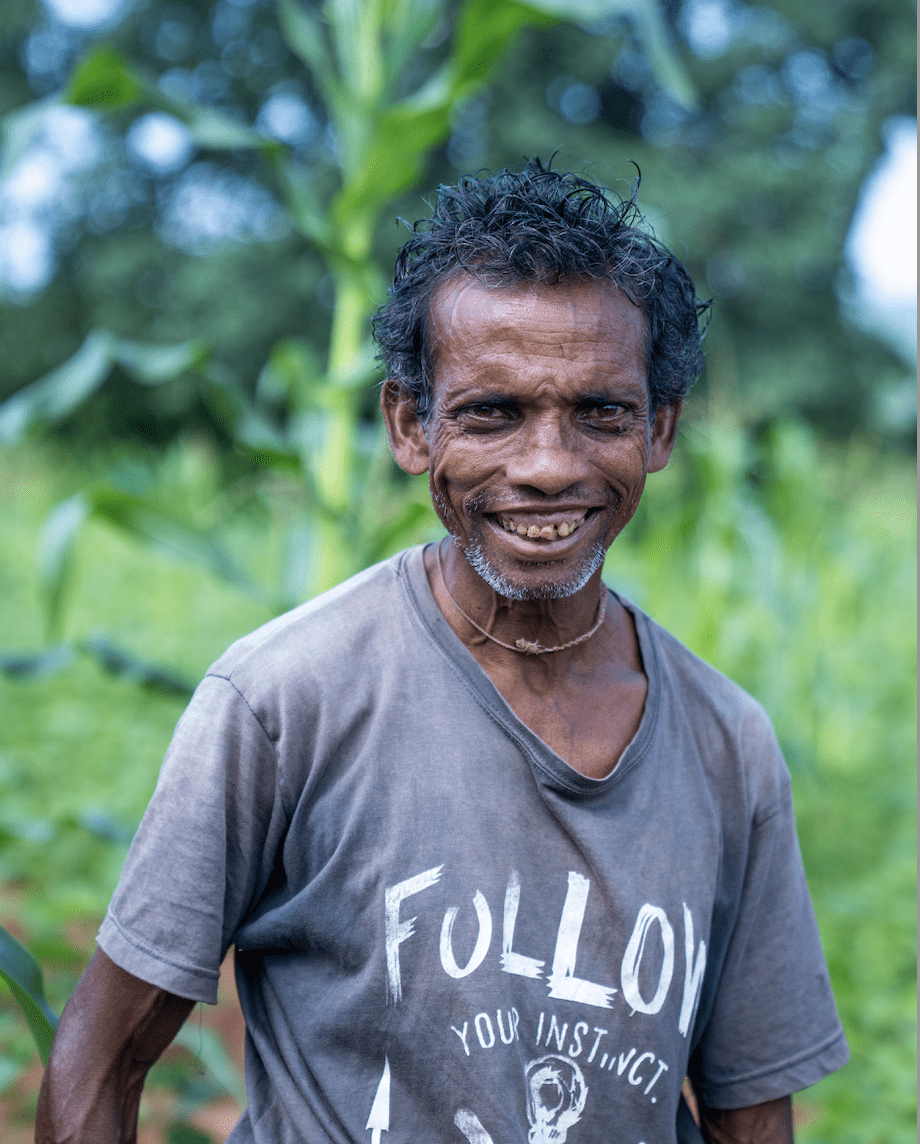 Chandra is an organic cotton farmer living in the Bandhapari village of Kalahandi District in Odisha with his family of twelve members. He has been a certified organic farmer since 2012, with the support of OCA implementing partner Chetna Organic and cultivates on 3.25 acres (1.3 hectares) of his 4.5 acres (1.8 hectares) of land.
Like most of his neighbouring tribal farmers, his total cultivable land is divided into parts based on the different soil quality characteristics, and this, he tells us, is a key factor deciding what type of crop he plants. He also bases his decisions on the distance from his house to the plots. However, Cotton, is vital to his family's earnings, and is grown each season. The large household has additional assets of over 20 goats, which they can sell to leverage their earnings as well as use the manure to enrich the fertility of the soil.
Looking back, the timely monsoon rains in the past five seasons were very favourable for his land and the crops he grew and provided good grazing grounds for the goats. The increased income from producing organic cotton helped meet the expenses of two-family weddings and he is now planning his daughter's wedding in the coming season. He received a yield of 711 kg seed cotton and received a total income of 62568 INR (739 Euro) for his cotton and an additional 19730 INR (233 Euro) as premium for the organic cotton.  His net income, after the deduction of cultivation costs towards seeds, hired labour, bio inputs, and transportation of cotton was 61948 INR (732 Euro) in 2021.
Crop rotation for tribal farmers is a complex process and based on integral elements working in harmony. Chandra says he and the surrounding farmers in Bandhapari are more conscious about sustainability and soil health which is prioritized over yield and income. Planning is key and many elements are considered, such as soil quality, availability, and feasibility of transporting manure to the plots, crops grown in rotation and the food requirements of the family.
Besides crops like millets, maize, pulses, pigeon peas, black gram and horse gram grown as rotational and intercrops, Chandra shares with us the importance of sustenance crops such as paddy, especially with his large family to provide for. He grows paddy in 2.5 acres (1 hectare) in the lowlands. This land gets silt along with rainwater which enhances the fertility of the soil without having to use large quantities of manure. Chandra tells us that as a result of the guaranteed water and nutrients, he produces nearly 2 metric tonnes of rice annually, enabling him to feed his entire family, and also sell about 500 kg in the local mandis at the government determined Minimum Support Price (MSP). He will often go a season without planting in some plots of land to spend the time focusing on regenerating the soil and nurturing its fertility due to the tough landscape.
From his additional crops he received a total income of 26000 INR (315 Euro). His family also earned additional income from diverse sources, from daily wage labour worth 6,000 INR (73 Euro) from working in other farms and 19000 INR (230 Euro) by selling goats during the year.
The positive impact of organic farming, regeneration and the strong business case for organic cotton has influenced his decision to grow cotton in the larger plot for the 2022-23 season. He feels with the work put in, the land is revived and strengthened to support organic cotton.  Farmers in his community benefitting from the higher market rates in 2021 have also supported this decision.
The experience of Chandra Harpal illustrates how tribal organic farmers prioritize soil fertility and conditions as a key factor in deciding their choice of crops, after balancing many other social and economic conditions. Chandra Harpal is an example farmer for the location and understanding his cropping decisions gives us better insights for providing better support services in a location, where majority of the farmers have a similar socioeconomic situation.