Back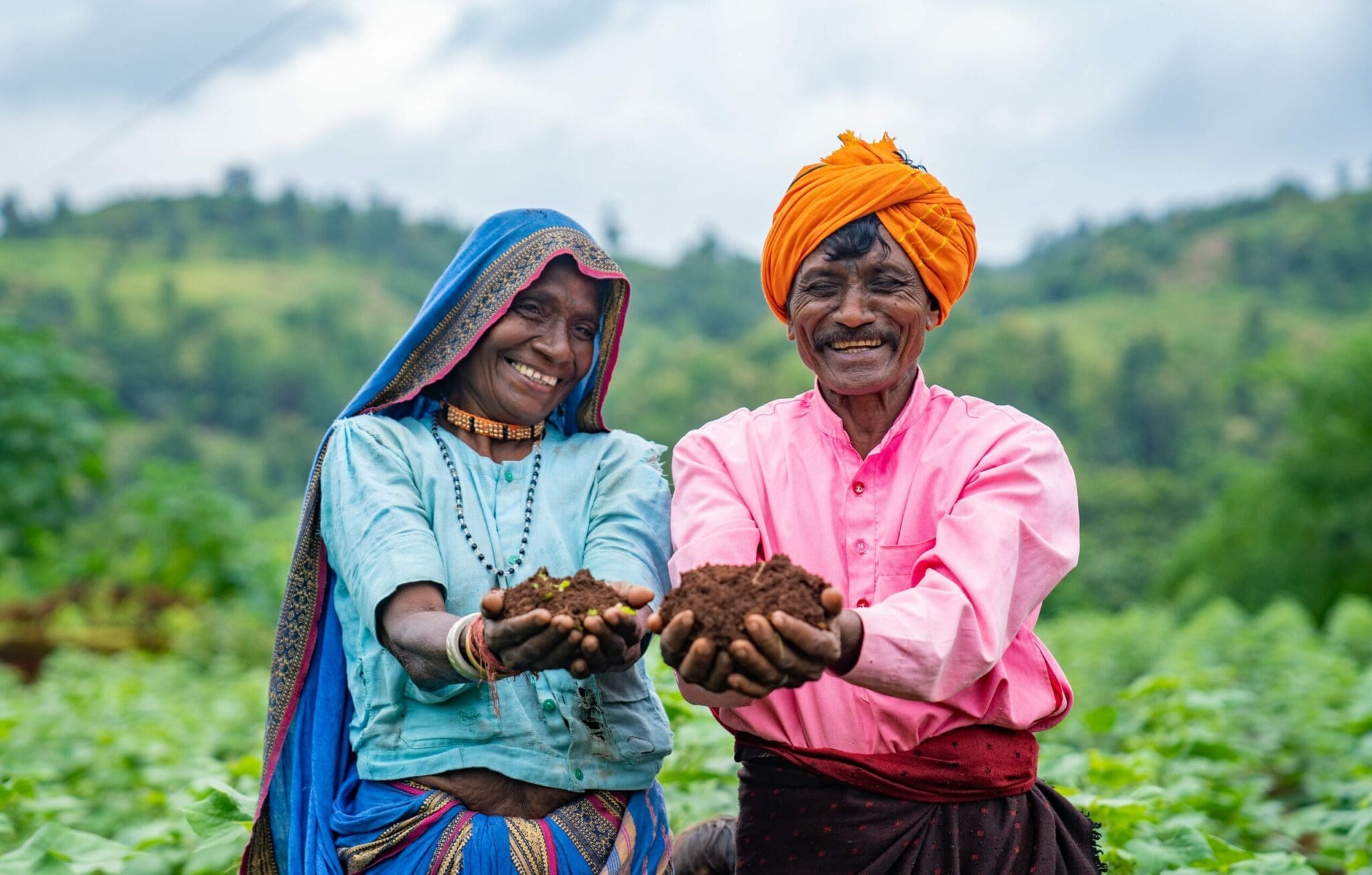 For three decades, tribal farmer Narsingh Bharmne grew cotton using conventional methods, with chemical fertilisers and pesticides. He and his fellow village farmers in the Barwani area took the first steps towards organic cultivation, thanks to the work of OCA Implementing Partner (IP) Aga Khan Foundation (AGF). The IP came to the village to promote non-Bt cotton (conventional cotton) and the use of organic fertilizers like amritpani, bio pest repellents and compost manure.
Narsingh lives with his wife, two sons, daughter-in-law, and grandson in Barwani district, Madhya Pradesh, His elder son is married and now works in the city. He owns a plot of land totalling 7 acres (2,8 hectares) and cultivates organic cotton in one acre, which he irrigates using water from the borewell on his land. He received from the IP two packets of seeds named Tapti free of cost and three bags of organic fertilizer (Devputra) at the rate of Rs 600 (7 Euro) a bag during the sowing season.
Additionally, the IP provided Narsingh with training on preparing bio-inputs, a key component of the organic process. With the help of his local community of farmers, he prepared a bio-input named Panchpatri for pest control and proceeded to share with the others.
This year, his seed cotton output was 400kgs which Narsingh sold it to the IP (378 Euro) at the price of Rs.80 per kg and received 10%, 3200 INR (37 Euro) as premium. He grew red gram as an intercrop which yielded 75 kgs that he put aside for his family's consumption. After deducting expenses, he earned a net income of Rs 17000 (200 Euro) from his cotton cultivation. In the remaining plot of his land, he cultivated maize in 1.5 acres (0,6 hectares), jowar in 2 acres (0,8 hectares), soya in 1.5 acres (0,6 hectares) and other crops in one acre (0,4 hectares). During Rabi season, he cultivates vegetables and green gram in 2 acres (0,8 hectares). He has a livestock of 4 goats, 3 cows and 2 oxen and receives an income of Rs. 5000 (59 Euro) per month. His total net income from other crops and non-Agri sources is roughly Rs.50,000 (590 Euro).
Encouraged by the results, Narsingh is very interested in expanding organic cotton farming across his land and hopes that the IP will provide further support. He notes that produce from his organic cotton farming fluctuates every year and insists a possible increase in the premium will encourage his fellow farmers to increase organic cultivation across their land.
He said,  As a result of home prepared bio inputs there is a saving on fertilisers and pesticides. Cotton yields are also steadily increasing. It's a win-win situation and importantly, our soil too has improved.
Narsingh shares other differences he has seen since switching to organic methods. He says that by using organic seeds, the cotton plants actually require less water and less fertilisers. The soil quality in his plot has significantly improved too, allowing him to grow consumption crops and vegetables, something he would never have been able to do before because of the toxicity created by chemical inputs.