Back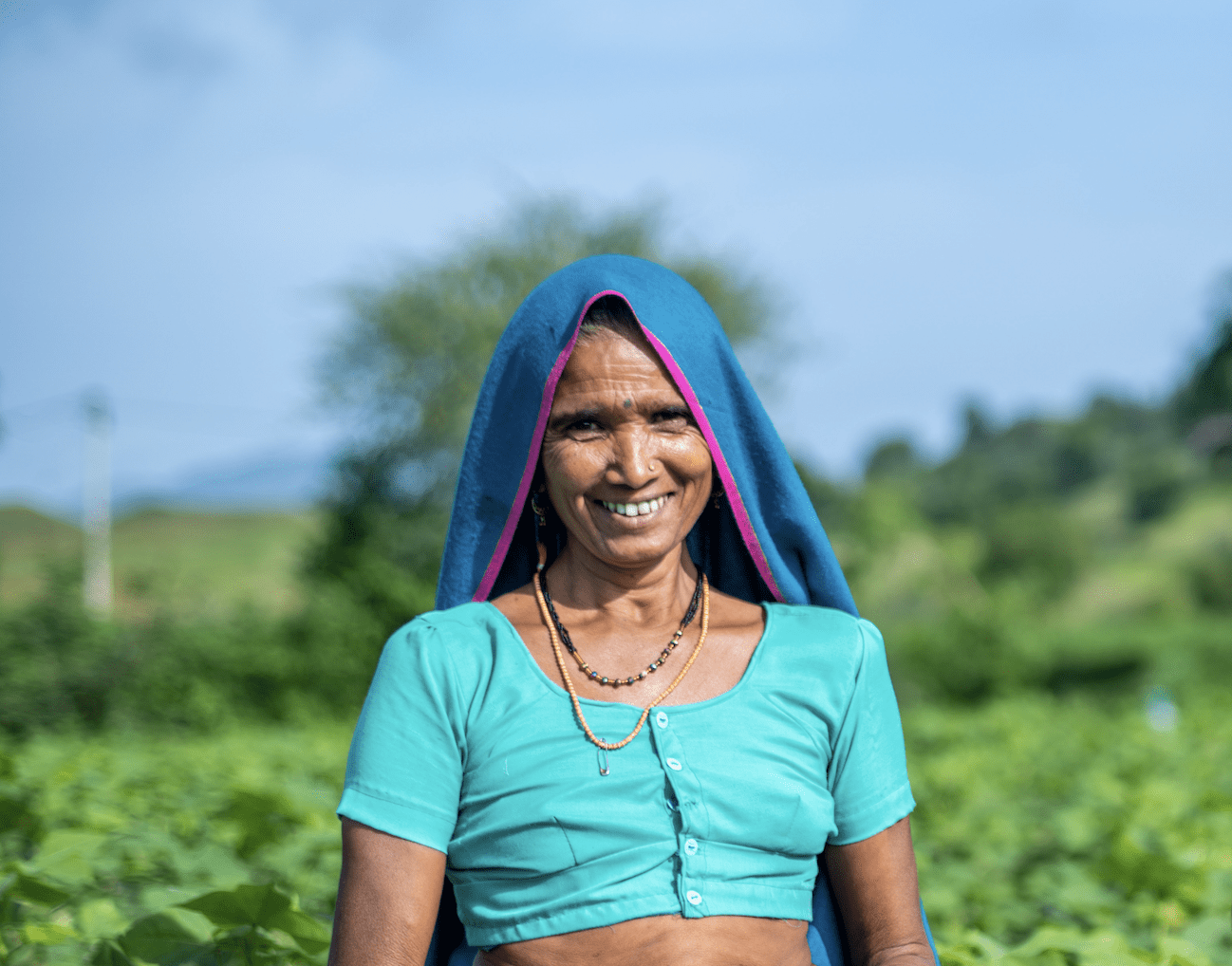 Kerli Estariya, is an active in-conversion farmer and member of the Women Farmer Producer Organization (FPO) based in Awali village in the state of Madhya Pradesh. She comes from a background of conventional farming methods with her family using chemical pesticides and fertilisers on the land for the past 20 years. When her family met the team at OCA Implementing Partner (IP) Action for Social Advancement (ASA), they began to consider moving to organic.
Cotton cultivation is the primary source of income for her family, which includes her husband, son, daughter-in-law and three grandchildren. Over the years this vital income has considerably decreased due to unexpected lower yield.Additionally, or tied to this issue is the fact that extensive use of pesticides over many years, has degraded the fertility of the soil. Thanks to the work of the field staff at ASA, the family have received training on organic farming practices and preparation of bio-fertilizers and pesticides. In the current season, ASA supplied bio-inputs free of cost and also pre-financed seeds at a subsidised rate to Kerli. Biological fertiliser comes from the farmyard manure that their 18 livestock provide.
Kerli grows organic cotton on 2 acres (0.8 hectares), a typical land holding of cotton farmers, and jowar crop in 0.5 acres (0.2 hectares) during the Kharif season, with red gram as an intercrop and wheat across the total land during Rabi season. The family are fortunate to have access to a bore-well on the land which provides the main source of irrigation.
During the 2021-22 cotton growing season, she produced 700 kg of seed cotton, out of  this 470 Kgs was sold to IP and the remaining in the open market. For the cotton sold to the IP, she received a gross income of 36778 INR (434 Euro) and a premium of 4133 INR (49 Euro). The total gross income she received from the entire cotton (including the cotton sold in the open market) was 56065 INR (663 Euro).   After deducting expenses, Kerli come out with a net income (not including the family labour cost) of 23832 INR (282 Euro). From the wheat and jowar, her family income is increased by 31000 INR (366 Euro), and milk from her cattle were kept for the family to consume.
Her positive experiences with organic cultivation have encouraged her to expand to her other crops which she states, 'will help in maintaining my family's health.' Her main concern is access to quality organic seed, which is difficult to locate in her region and she also recommends an increase to the premium.
Sharing her thoughts on her first year converting to organic, Kerli said:

"the low cost of cultivation coupled with support services from the ASA such as the free supply of bio-inputs, pre-financing of the non-GM seed at subsidised rate, premium payment and immediate payment for the sale of seed cotton are the motivating factors for us in joining the Women Farmer Producer Organization and looking to a future fully organic.'