Back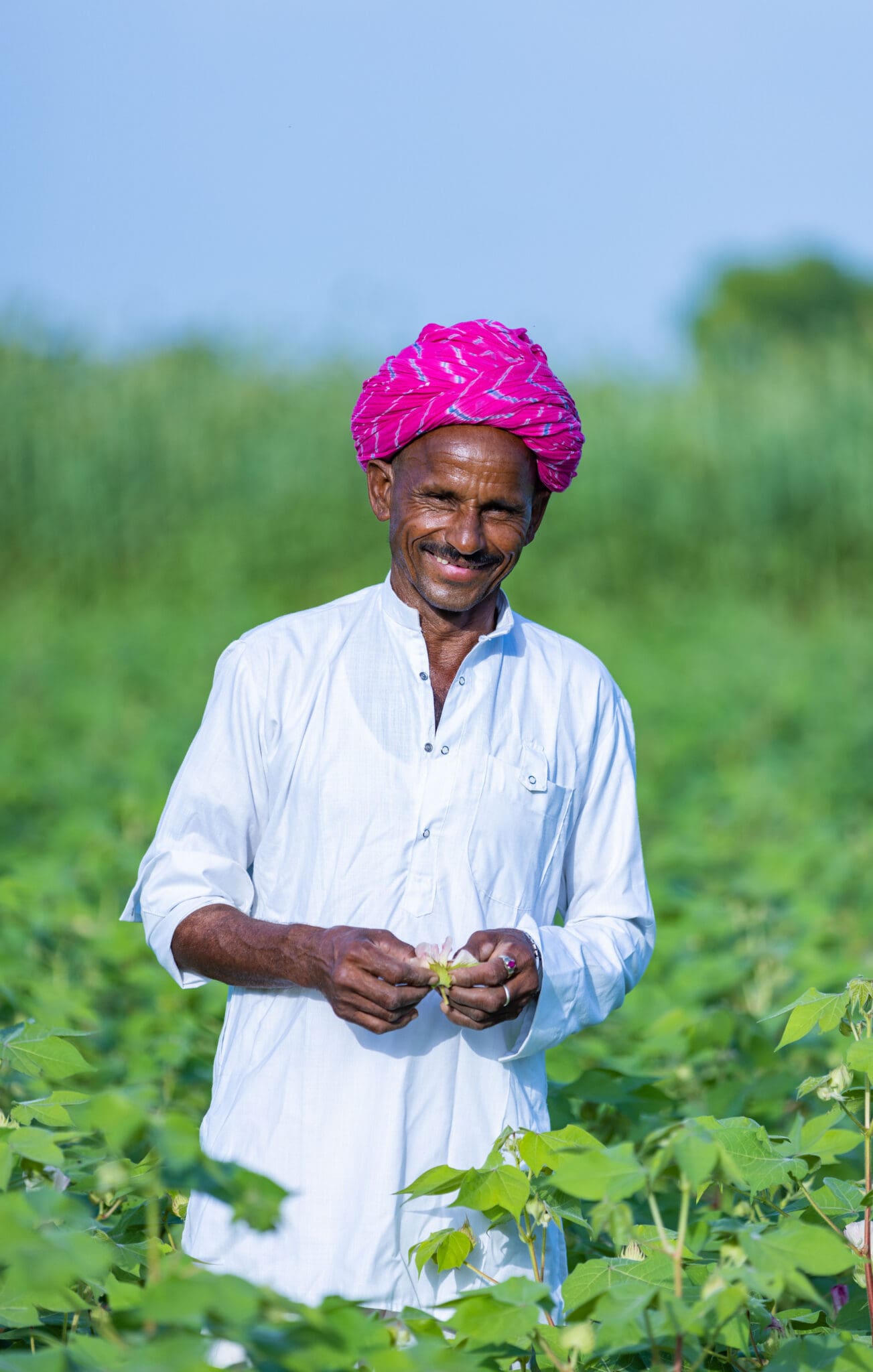 Farmer Stories Chandraram
Chandraram is a 42-year-old farmer in based in Maliyo Ki Dhani village, Rajasthan, who farms across 2.7 acres (1 hectare)  growing various crops such as cotton, wheat, millets, mustards, and fodder, allocating 0.9 acres (0.3 hectares) of his land to cotton cultivation. Chadraram's family has been cultivating cotton for generations, over twenty years, but he only shifted to organic cultivation between 2016 and 2017. He shares with us the reasons for the shift to organic, which were mainly due to deteriorating soil conditions and health issues but also mentions the importance of the awareness raised by the implementing partner (IP) surrounding the positive impact and benefits of organic farming.
He greatly values the training and inputs provided by the IP, which has allowed him to convert to organic cultivation successfully. The new techniques of making bio-inputs, vital to organic farming have also been introduced to the rest of his crops. Chandraram mentions that he struggles with intercropping, due mostly to the different methodologies of harvesting required, such as using machinery versus handpicking, but he does practise crop diversification, a practise used in his family for generations.
The procurement process is assisted with the support of the IP and Chandraram says he is satisfied with the premium amount. He appreciates that the guaranteed procurement enables him to be more confident and secure in his organic cotton cultivation. Additionally, he receives non- GM cotton seed from the IP and has also received bio-inputs in the past when needed, which gives his livelihood greater security and resilience.
By far the biggest improvement that Chandraram has seen is in the domain of health for his entire family.  In the past, his wife was not well and he was spending a great deal of money on her treatment. She even lost the eyesight in her eyes, due to her illness and showed symptoms such as headaches, swelling and rashes. But since he has halted the use of chemicals, which he used to spray conventional crops with, his wife appears to be much healthier.
His spending on her treatment has reduced dramatically, allowing him to save almost 2 lakhs INR (2,300 Euros) since last season. He has proudly paid his debt in full and has also constructed a sturdy storage shed with these savings. He happily shares with us that due to his wife's improved health, she is now also able to take on more tasks in the family home.
"The implementing partner created awareness about organic cotton cultivation, and we wanted to shift to organic agriculture. By doing so, we have saved a lot on medical bills and probably her (his wife's) life."
After witnessing the impacts on his family's health, Chandraram shifted all his crops to organic by 2021. This he says, has led to noticed improvements in soil, which he describes as "more porous and healthier" resulting in an increase in his overall production. He states that his biggest challenge is in the access to quality seeds and welcomes additional support in this vital input.
Chandraram has seen the positive impact organic farming has on his land and family's health and is confident to continue with organic cultivation. .  "Let's not feed our kids poison!" he states.
He says that he would strongly recommend other farmers to take it up and step away from conventional methods, especially due to improvements in health for the whole household.