Back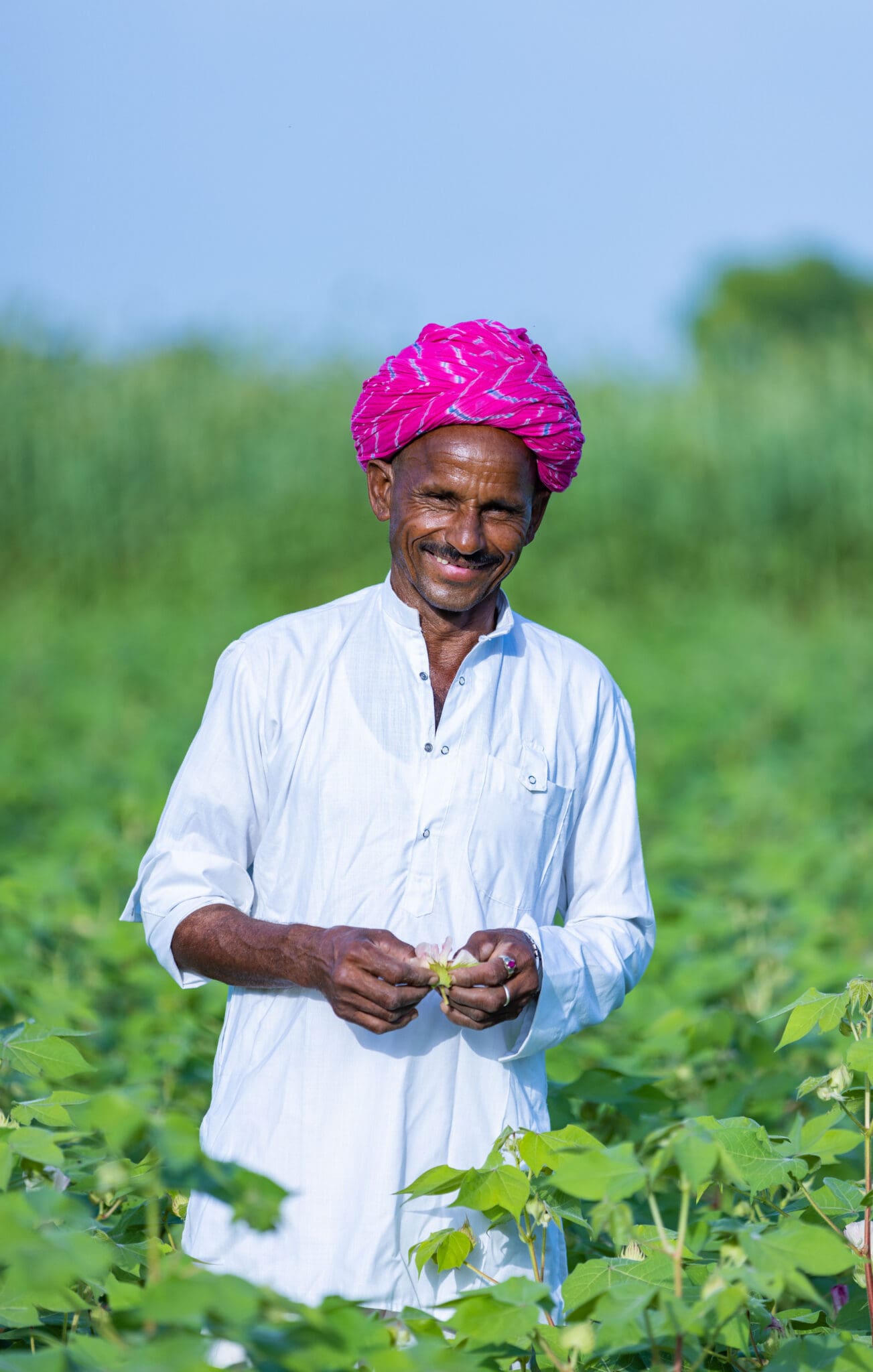 Farmer Stories Chandraram
Meet Chandraram, a 42-year-old farmer from the village of Maliyo Ki Dhani in Rajasthan. He cultivates a wide variety of crops, including cotton, wheat, millets, mustards, and fodder, on his 2.7 acres (1 hectare) of fertile land. Notably, 0.9 acres (0.3 hectares) of his land is dedicated to cotton cultivation— a tradition cherished in his family for generations.
Chandraram's farming story took a significant turn between 2016 and 2017 when he decided to transition from conventional farming to organic practices. Deteriorating soil conditions and health concerns, particularly his wife's illness, were pressing issues. Additionally, the awareness raised by the OCA Implementing Partner (IP) about the positive impact and benefits of organic farming played a pivotal role in his decision.
Chandraram expresses deep gratitude for the training and support provided by OCA. These resources equipped him with the knowledge and techniques necessary to successfully embrace organic cultivation. He enthusiastically adopted these new methods, including the production of vital bio-inputs, which have since benefited all his crops. Though he acknowledges the challenges of intercropping due to differing harvesting methods yet, remains committed to the practice of crop diversification.
The procurement process, facilitated by the IP, has been a boon for Chandraram. He finds satisfaction in the premium amount he receives for his organic cotton. This guaranteed procurement not only boosts his confidence but also enhances the security of his organic cotton cultivation. In addition to this, he has access to non-GM cotton seeds and receives bio-inputs when needed.
However, the most notable change for Chandraram is the improvement of his family's health. In the past, his wife battled severe health issues, incurring substantial medical expenses. Her ailment resulted in vision loss, headaches, swelling, and rashes. Since transitioning away from chemical-laden conventional farming, Chandraram has seen a remarkable improvement in her health. Medical bills have significantly reduced, enabling him to save almost 2 lakhs INR (2,300 Euros) since the last season. With these savings, Chandraram cleared his debts and constructed a sturdy storage shed. His wife, now in better health, actively contributes more to their household.
"The Implementing Partner created awareness about organic cotton cultivation, and we wanted to shift to organic agriculture. By doing so, we have saved a lot on medical bills and probably her (his wife's) life," Chandraram reflects.
Chandraram made the courageous decision to switch all of his crops to organic farming by 2021, motivated by the benefits to his family's health. With the soil becoming" more porous and healthier," as he puts it, there has been an improvement in its quality, which has enhanced productivity as a whole. His primary challenge remains access to quality seeds, and he welcomes additional support in this crucial aspect.
Chandraram is resolute in his commitment to organic farming, not just for the well-being of his land but also for the health of his entire family. With conviction, he states, "Let's not feed our kids poison!" He passionately recommends other farmers follow, urging them to embrace organic farming methods, especially for the positive impact it can have.