Day two of the Organic Cotton and Textiles Conference co-hosted by Organic Cotton Accelerator, GOTS, IFOAM – Organics International in Indore, India covered vital topics in more detail with focused meetings and breakout discussions. Throughout the day, the Networking Forum allowed many key players across the supply chain to meet and forge working relationships. GOTS hosted a day dedicated to Enhancing Organic Cotton Integrity and OCA hosted sessions covering the Environment, Seed, Social Issues and Market Linkage.
Farmer-Centric Environmental and Climate Impact 
Moderator: Ruud Schute, Programme Director, OCA 
Speakers: Mathilde Tournebize, Programme Manager, Seed and Innovation, OCA, Germán García Ibáñez, Head of Sustainable Raw Materials & Circularity, Inditex, Asish Mondal, Director, Action for Social Advancement
OCA will bring environmental and climate impact data into its Farm programme monitoring, validation, and reporting to demonstrate and leverage the potential of organic cotton farming beyond the supply chain. The session allowed attendees to co-shape our environmental and climate impact roadmap and we discussed how we can leverage our joint interventions and impact data while delivering tangible benefits to farmers and supporting brands' sustainability strategies.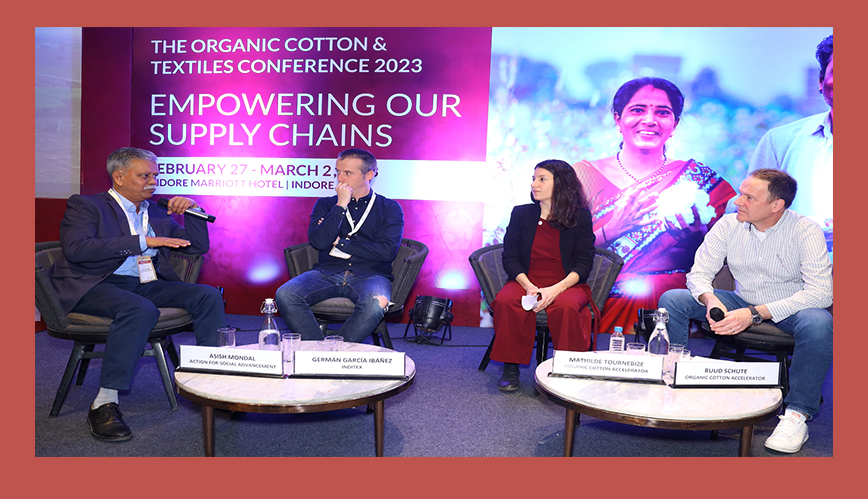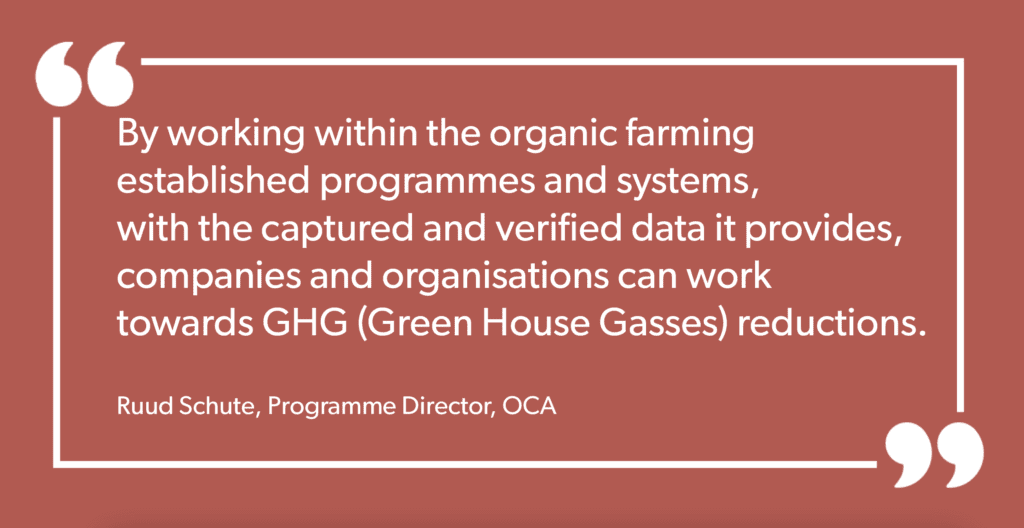 Growing Organic Seed Availability 
Moderator: Mathilde Tournebize, Programme Manager, Seed and Innovation, OCA
Speakers: Avinash Karmarkar, Vice President of Vasudha Farm Initiatives, Pratibha Syntex, Vivek Rawal, CEO and Managing Director Remei, India, Snehal Doshi, Owners, Partech Seeds PVT ltd, Amritbir Riar, Deputy leader of the Department of International Cooperation and leader of the Group Resilient Cropping Systems, FiBL
For the past four years, OCA has worked closely with seed companies, research organisations, and farm groups to address the availability and integrity of organic seed for the sector in India. With the seed procurement season in full swing, it's time to connect the dots and scale! We gathered the learnings from the Seed programme and discussed the next steps needed to make the system fully functional. Attendees (especially farm groups and seed companies) had the opportunity to sign up for the OCA Seed Trial network and collaborate on forecasting seed volumes to ensure the right quality and quantity of seed is available for the sector.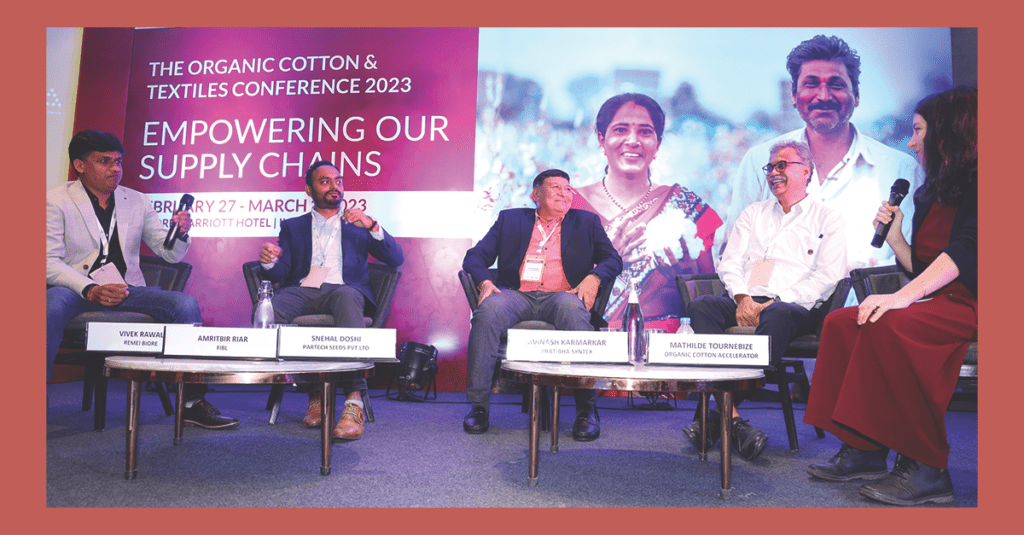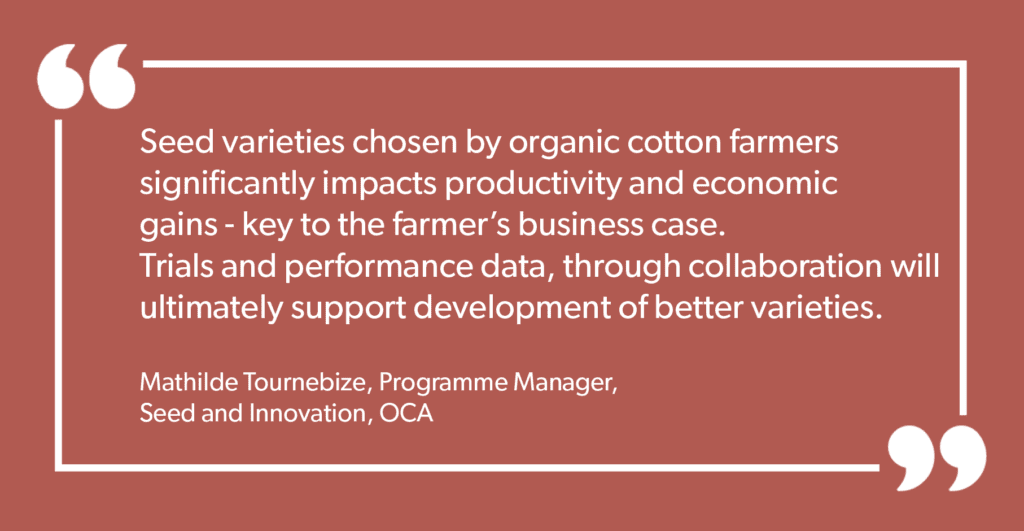 Supply Chain Connectivity: Establishing the New Normal
Moderator: Sanchit Kukreja, Programme Manager – South Asia, OCA
Speakers: Avik Banerjee, Material Programme Manager, H&M, Amitabh Singh, Founder director STAC enterprises PVT ltd and Amiha Agro PVT ltd, Sandeep Bhargava, Founder and Director, OneCert International
Using the learnings from OCA`s 2021-2022 Farm Impact Report, we have improved transparency and dependency through a sharper farmer commitment agreement and procurement process. This process has improved availability, right time, and fair price for more farmers in the programme. This session focused on OCA`s Farm Programme efforts towards building a transparent and seamless Farm to Fashion Programme for brands.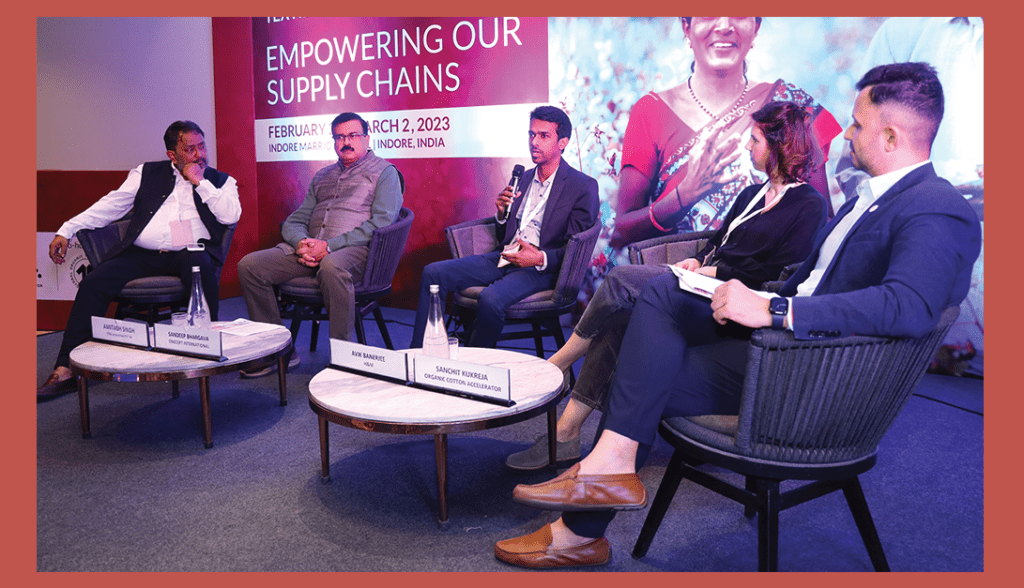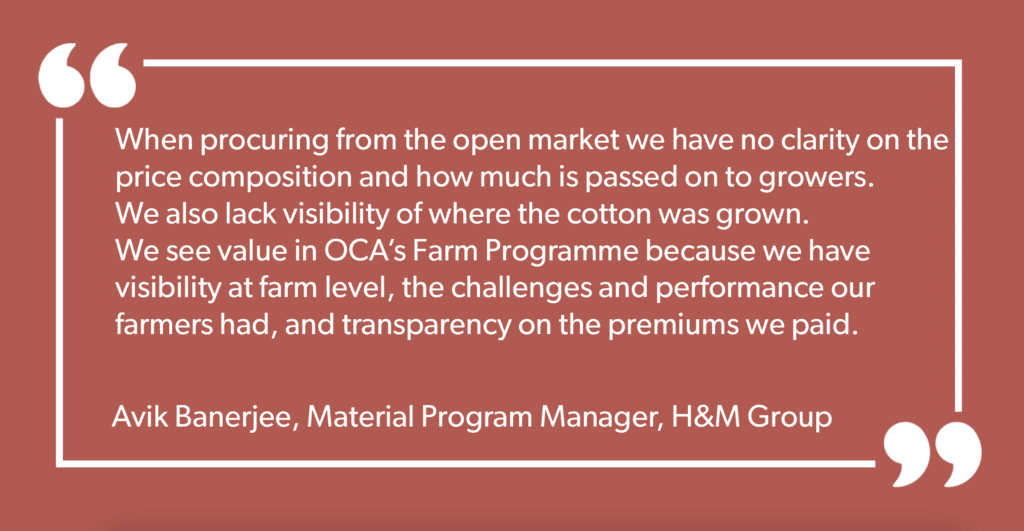 Ensuring Decent Work Conditions at the Farm Level Capacity building approach
Moderator: Shankhamala Sen, Senior Programme Officer – South Asia, OCA
Speakers: Rakesh Supkar, Business Head, Traidcraft, India, Dr. Venkateswarlu Davuluri, Director, Glocal Research, Manas Mohan, Director, The Changemaker Charitable Foundation, Ajit Sharad Kelkar, Co-Founder Abhinav, AHRDO
Last year OCA commissioned a detailed landscape mapping study to understand the current decent work conditions at the farm level. The study indicated the need to continue this dialogue with all stakeholders and create a capacity- building roadmap for the coming seasons. The session provided learnings and discussed a better framework for training and monitoring decent work conditions at the farm level.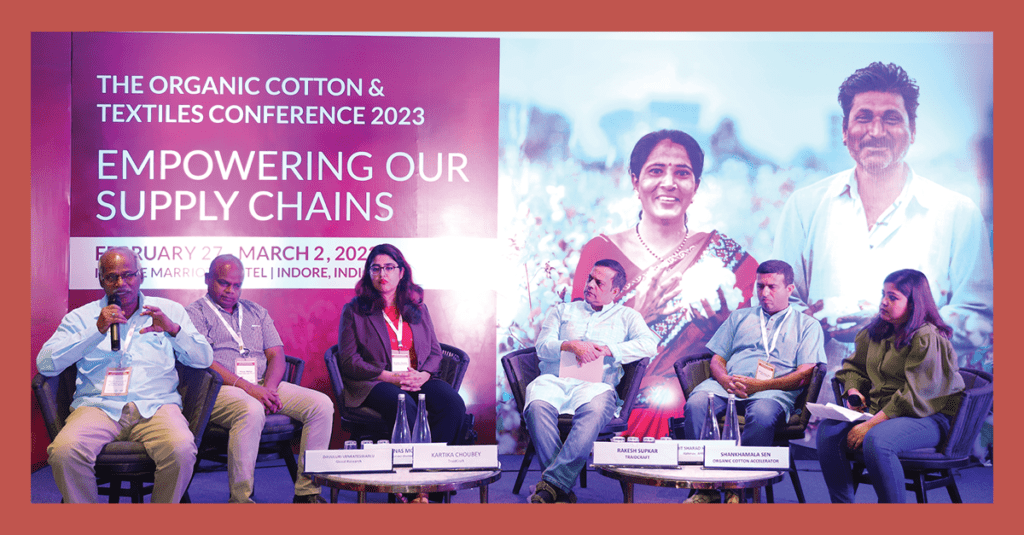 Keep up to date with all Conference and OCA news, subscribe to our newsletter on the link below.