Day one of the Organic Cotton and Textiles Conference co-hosted by Organic Cotton Accelerator, GOTS, IFOAM – Organics International in Indore, India was filled with panel discussions sparking vital conversations. Farmers, farm groups, industry representatives, non-profits, academics, suppliers, brands, certifiers, government representatives and policymakers made up almost 200 guests at the Indore Marriott Hotel.
Our honourable guests included Shri Kamal Patel, Agriculture Minister, Madhya Pradesh, Mrs. Roop Rashi, Textile Commissioner of India and Mr. AK Yadav, Advisor, Organic Ministry of Agriculture.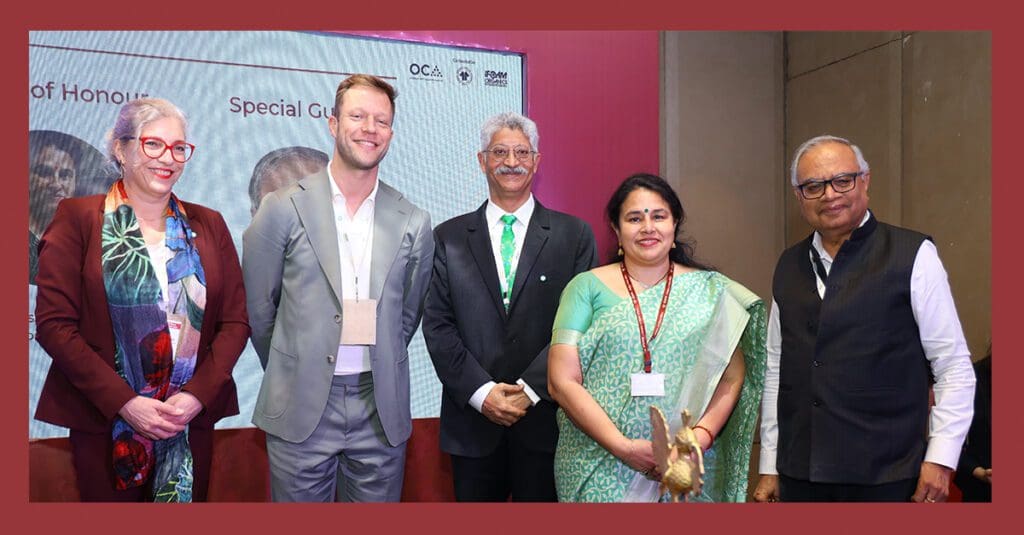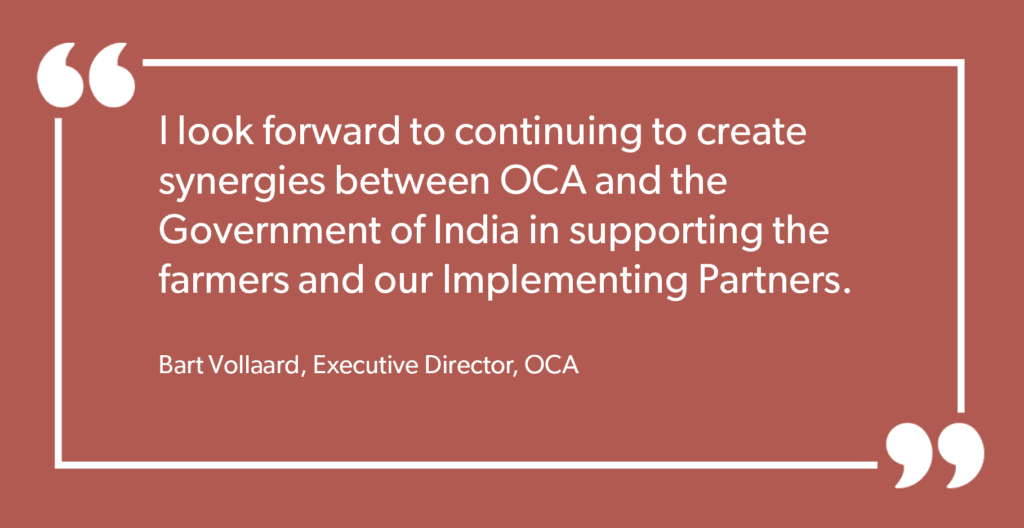 Putting People First 
Organic cotton and textiles pass through many people's hands before the consumer brings them home. While organic duly takes into consideration environmental aspects, it's equally important to consider the social aspects. How do we ensure social considerations are embedded in our work at the farm-level? The panel of experts and practitioners explored this critical topic for the supply chain.
Session Moderator: Deepika Nookala, Strategic Communications Lead, Fashion Materials & Labour Rights, Laudes Foundation 
Panellists: Dr. Aqueel Khan, Director, Association for Stimulating Know How (ASK), Hetal Shah, Operations: Regenerative Agriculture, Amiha Agro, Vidya Rangan, Senior Manager, Impacts and Innovations, ISEAL Alliance, Gauri Sharma, Senior Manager, Organisational Development, Shahi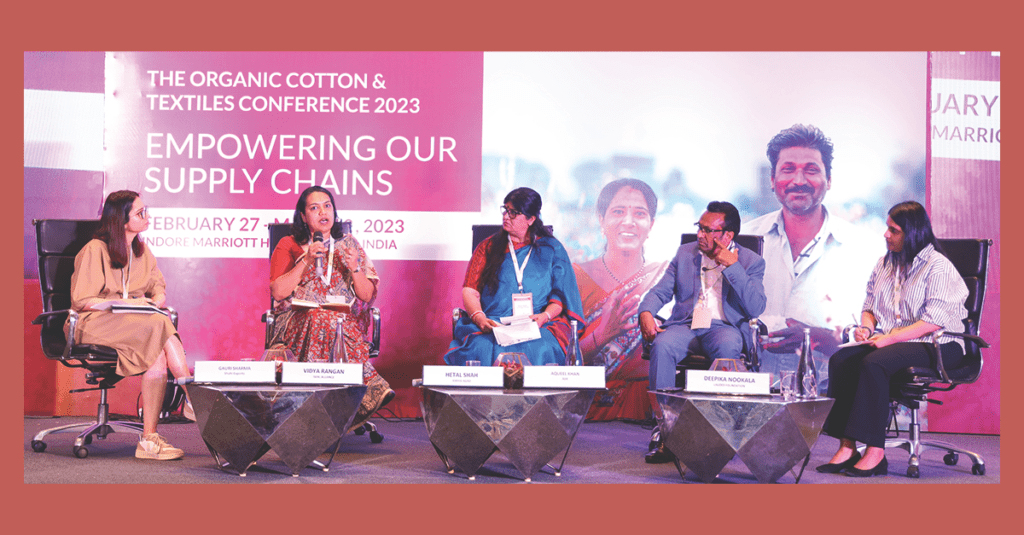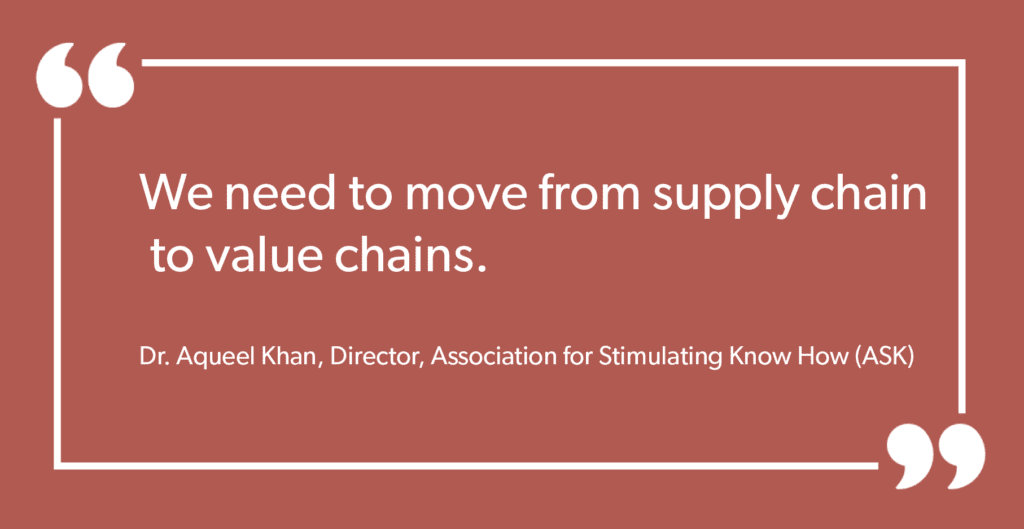 Voices from the Field
Various farmers joined us as panellists, in a dedicated Q&A session with agricultural experts, sharing their journey in organic cultivation. Listening to their challenges, the positive impact of their actions and results achieved through collective learning and impactful support gave the audience a better understanding of the supply chain from the source point.
Session Moderators: Avinash Karmarkar, Vice President – Vasudha Farm Projects, Pratibha Syntex, Ajit Sharad Kelkar, Co-Founder Abhinav, AHRDO
Panellists: Jasma Bai Kannouje, Board of Director, Palsud Women Farmer Producer Company Limited, Nanbai Mori, Secretary of Alirajpur Tribal Producer Company Limited, Pankajini Nial, Organic cotton farmer, Odisha, Gavra Manisngh, Organic cotton farmer, Vasudha, Rama Bilji Arad, Organic cotton farmer, Petlawad, Shivprasad Ramkaran Sharma, Organic cotton farmer, Sikrani.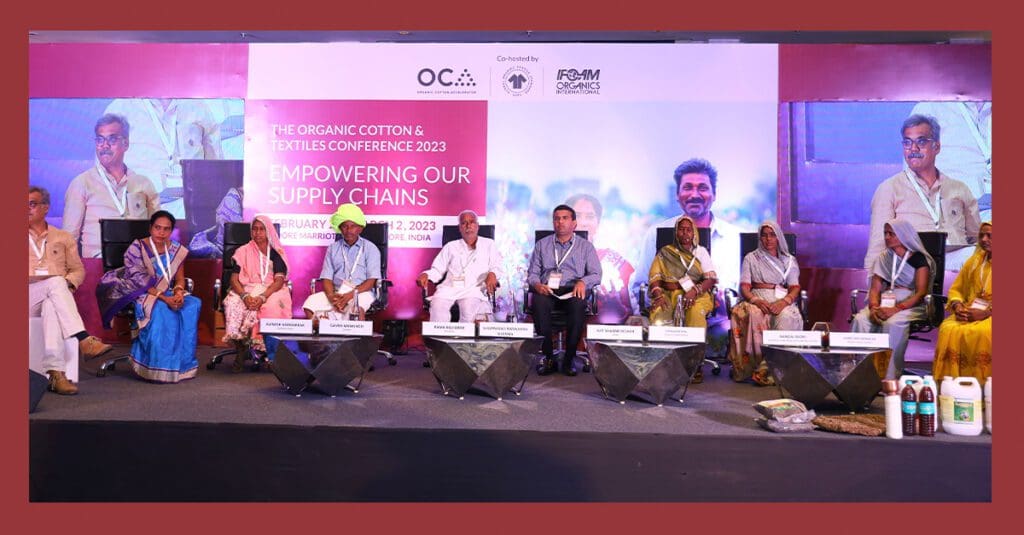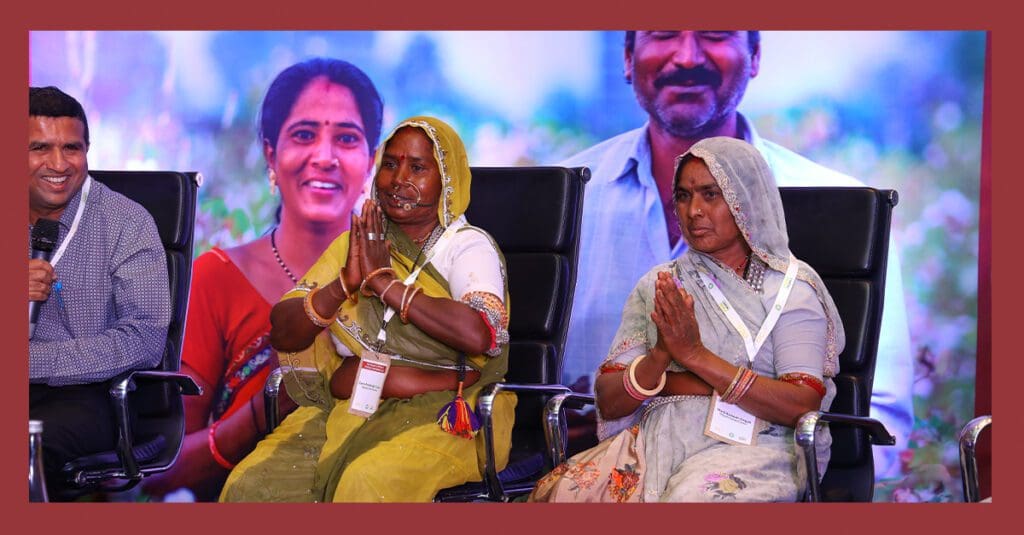 Building Trust and Credibility across the Supply Chain
How do we leverage technological innovations and traceability to foster integrity, transparency, interventions, and impact across the organic cotton supply chain? The panel discussion spotlighted existing solutions and levers available and addressed the question of how data on environmental and social outcomes can complement the existing certification system.
Session Moderator: Rahul Bhajekar, Managing Director, GOTS 
Panellists: Hitesh Sharma, Sustainable Sourcing and Traceability Lead, Levi Strauss & Co, Prachi Gupta, Responsible Quality Assurance and Impact, GOTS, Saatchi Doshi, Programme Analyst, Asia Innovation Programme, Fashion for Good, Ruud Schute, Programme Director, Organic Cotton Accelerator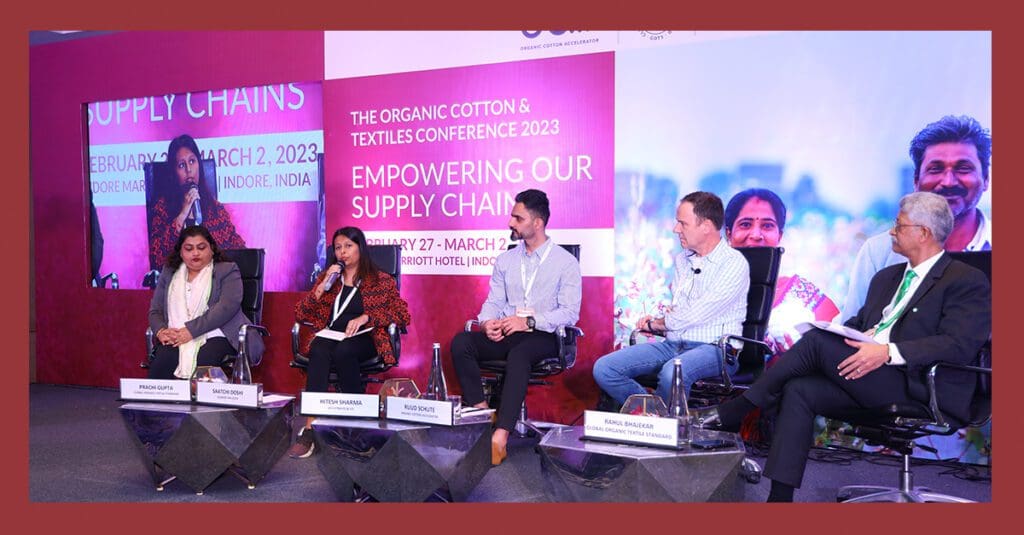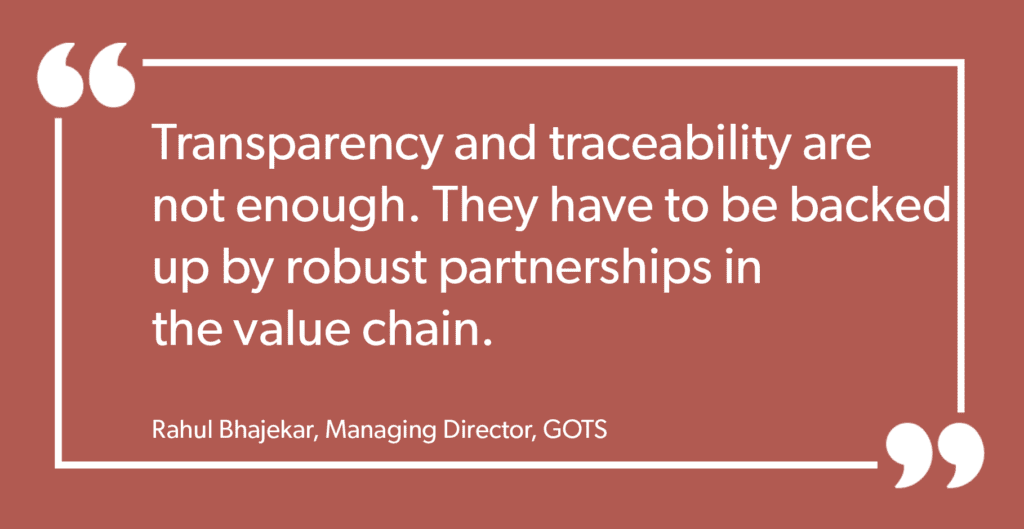 Powering the Transition 
What's the role of the public and private sectors in scaling organic cotton and agriculture across the globe? The open discussion focused on key levers to accelerate the industry's growth alongside achieving impact on the ground. We heard success stories, took learnings and looked to the future.
Session Moderator: Choitresh Ganguly, Vice President, IFOAM – Organics International 
Panellists: Manish Daga, Cottonguru, President and Coordinator, All India Cotton FPO Association, Simplice Davo Vodouhe, Benin Organization for the Promotion of Organic Agriculture (OBEPAB), Jasmer Dhingra, Director Programs India, the Sustainable Trade Initiative (IDH), Srinivasan Krishnamurthy, Cotton Developer, Ikea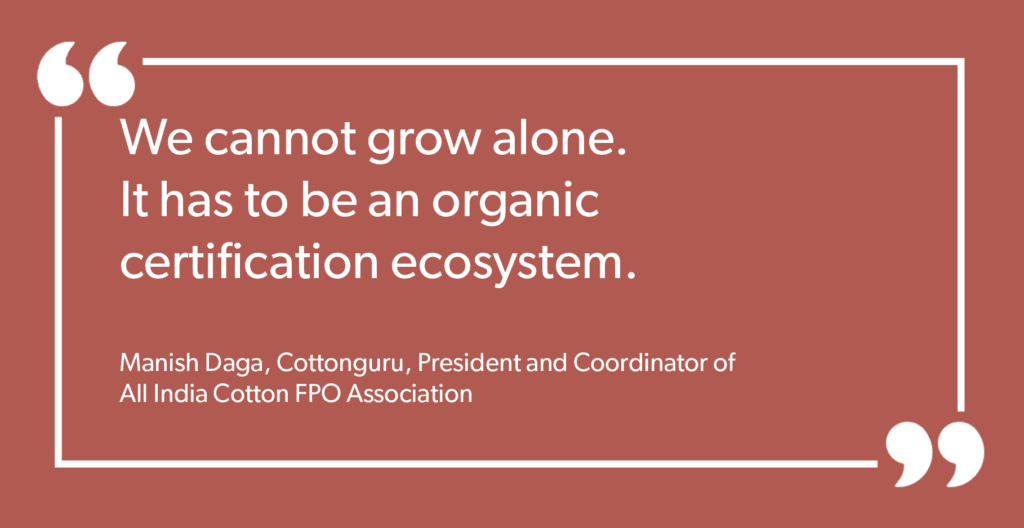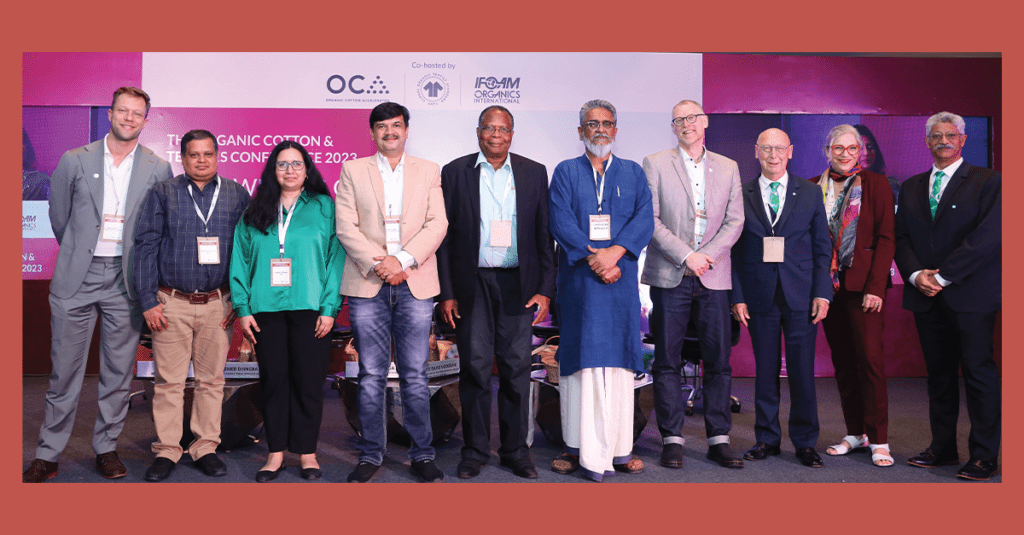 Keep up to date with all Conference and OCA news, subscribe to our newsletter on the link below.