Blog by Gitanjali Puri, Programme Officer, OCA
At OCA we believe in the power of the Organic Cotton Effect which acts as a catalyst for positive change within the sustainability space. To unleash this potential, we work closely with our Implementing Partners (IPs) on knowledge sharing in the form of workshops. Their dedicated field staff will then share this knowledge with the farming communities across India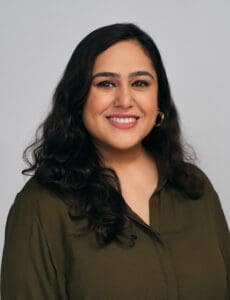 Seasonal Workshop
The annual workshops are a common platform for the OCA Programme Team and its Implementing Partners to come together and learn about what's new within the organic agriculture space, sharing good cultivation practices, new and innovative strategies and while also providing a platform for communal learning.
For the first time in over two years, due to the pandemic, we held our workshop in person at Indore, Madhya Pradesh. The event ran over two days in late May and included the full Programme Team from OCA as well as organic agriculture experts from Abhinav AHRDO. I'm happy to say that it drew a large number of attendees, with over 80 participants from across the country including project coordinators and senior field staff from farm projects of all our Implementing Partners. Our team also welcomed new Implementing Partners that had recently joined OCA and used this session to onboard into our community as well as finally meeting face to face with some of the teams that we onboarded virtually over the last two years.
Sharing Knowledge
The OCA team kicked off the two-day event with a presentation on the activities conducted at the beginning of the cotton season. We took a deep dive into various topics within pre-sowing activities, including seed treatment, land preparation, and seed kit preparation. The group discussed the importance of setting up bio input resource centres and the steps needed to put it into practice as well as the preparation of bio inputs. Guests also heard from a local farmer who shared some best practices for cotton pruning. Together we covered the ins and outs of setting up a demo plot on farmland and also touched upon the regenerative aspects of organic farming such as intercropping.
Positive Feedback
We received an overwhelmingly positive response by the participants, with a call out for an extended event running time to include some additional topics. From within the workshop topics discussed, attendees particularly benefited from presentations on seed kit preparation, cotton pruning and its impact on crop yield and quality, and pre-sowing activities conducted at the farm. Our guests also proposed visits to farms and an inclusion of lead farmers to bring further insights at farm level to the table.
Next Steps
Our Programme team in India will now liaise with our colleagues based in the Amsterdam office to share feedback and our insights on the event. One key item of feedback was to incorporate the regional languages into these workshops, which informs our decision on decentralising these events which will encourage more participation.
We will include all feedback as we plan our next event in the new year. On the heels of this workshop, we look forward to preparing for a series of online workshops that will focus on the various activities the field staff of our Implementing Partners will carry out over the course of the cotton season. We look forward to learning from them and hearing about the incredible work they are all doing on the field to drive improvements for farmers and strengthen the organic cotton farming community.
For me to see people from the different Implementing Partners interact and exchange knowledge was very encouraging. I saw people from the same village but working for different Implementing Partners connect and cement friendships. Overall, the openness and passion for sharing and taking on new information or methods was a clear indication that the collaborative sector approach works!