Blog by Kavya Jain, Senior Programme Officer, South Asia
Driving the support
We know from over five years of working with organic cotton farmers in India that there are environmental and economic motivations for conventional farmers to switch to organic farming, and we are certainly witnessing an increasing call for support. Through OCA's Programmes we have provided specific support to existing and transitioning cotton farmers for them to thrive in the organic sector and enable a smooth transition into organic agriculture. With long-term procurement commitments through market linkages and premium payments, due to the commitment of our Contributors, we support farmers in their journey towards certified organic farming.
As a result, we have observed change in their practices, shifts in their perceptions and improvement in their economic conditions – this positive ripple effect has permeated through the cotton farming communities and encouraged more farmers to convert from growing cotton with chemicals, to growing cotton organically. It pays to go organic!
With our ears to the ground, we recognised the need for accelerating the in-conversion journey for farming communities and building an enabling environment to support their efforts and ensure economic rewards. We have been diligently working with donors and funders to drive this much-needed acceleration of in-conversion projects in India. On the back of our in-conversion strategy launch and with the expansion of the Farm Programme to now include in-conversion farmers in the 2021-22 cotton season, OCA was recognised with an award from the Regenerative Fund for Nature, a global fund driving regenerative practices in textile supply chains.
Building the foundations
Since then, we have acted by conceptualising OCA Impact Funding, with an objective to support in-conversion projects by sub-granting and supporting them in creating long-term market linkages. We have spent the last few months in carefully assessing our Implementing Partners, allocating the funding, and kick-starting the first phase of the OCA Impact Funding in the 2022-23 cotton season. We have identified our project partners and conventional farmers who are willing to embark on the in-conversion journey and have confirmed market linkages and premiums through the Farm Programme mechanism. Since the launch of our in-conversion strategy – a call to action for all sector players, we are happy to see the positive reaction from global brands and retailers as they commit to procure in-conversion cotton with a long-term intent.
We are also working closely with selected project partners for expert-led capacity building and handholding support as they engage with in-conversion farmers to ensure a robust mechanism of continuous improvement. Being granted these funds has also allowed OCA to focus on other long-term farming initiatives that will boost regenerative practices. Hundreds of farmers are signing up to work on demo-plots by adopting regenerative farming methods and will work alongside recently trained trainers who will guide this process. Alongside these project level actions, we are also working towards centralising seed testing – sharing best practices, reducing costs, and collating performance data.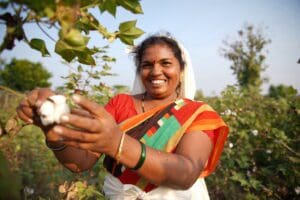 Our next steps
The first phase of this journey has brought us closer to our aim of enabling thousands of small-holder farmers across the Farm Programme, increase the amount of organic farmland, scale-up organic cotton production responsibly and successfully over the long term. The specialised training and hand holding to project teams will strengthen the cascading model with direct impact on improving farmer skills and their self-sufficiency while also fostering regenerative agriculture practices – thereby ensuring that they are maximising the potential of their land.
Over the upcoming months of September, October and November, the harvest season begins, and the farmers will have completed the first cycle in this extraordinary journey. At OCA we will continue to monitor, review, and improve this journey – sharing the positive impact with farming communities and the cotton sector. By working collaboratively, we are expanding the organic cotton community for the benefit of farmers, their land, and our planet.
To speak to us about our work and join our movement click here